A Problem
The patented CCW Breakaways products and methods solve a problem that has existed for over 170 years. How can a firearm be concealed and carried comfortably, and then accessed and deployed quickly when required?

A Solution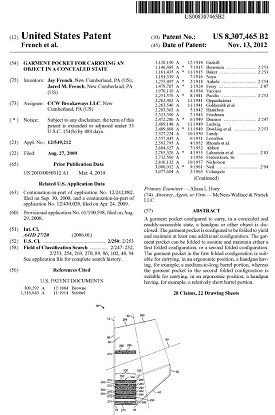 The CCW Breakaways products with disguised and enlargeable openings are "normal looking." They provide a tactical advantage to the user because the firearm deployment is "pre-staged." A full-gun-grip is established in a concealed state. The method for firearm deployment is faster than drawing from a traditional holster. The products also make carrying a firearm comfortable which distinguishes them from traditional holstering methods.
CCW Men's Khakis and Cargos were launched in 2010

CCW Men's Jeans were launched in 2012

CCW Men's Belts were launched in 2013
An Opportunity
A 1% market share is valued at $19M annually for this product offering in the firearms industry. Product line extensions beyond firearm applications are possible for an emerging garment trend focused on mobile and wearable computing devices.
Game-changing product lines with proven sales and deployed missions on every continent

5 Years of Sales & Google Analytics

5 US Patents + 1 US Trademark awarded by USPTO

Published more than 20 times | YouTube Channel with 13 Professionally Created Videos

Exhibited at 4 NRA National Shows plus 1 SHOT International Trade Show

Existing robust e-Commerce infrastructure with marketplace demand for future dealerships and broader distribution

Manufacturing in two facilities with a validated operations supply chain.

Product line and marketing expansion exist beyond the firearms industry
The Firearms Industry
CCW Breakaways is a patented, disruptive innovation. The products should be seen primarily as a firearms accessory, and secondarily as a specialty garment. We replace traditional holstering methods. Our sales generally precede or succeed the purchase of a firearm in an industry showing consistent growth in today's terrorism-violence conscious world.
Consider the firearms industry size and growth . . .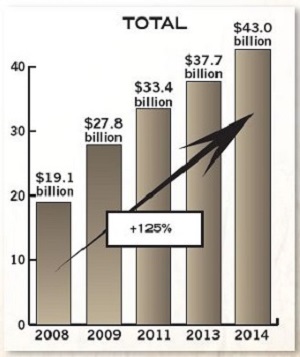 Consider firearms production and growth . . .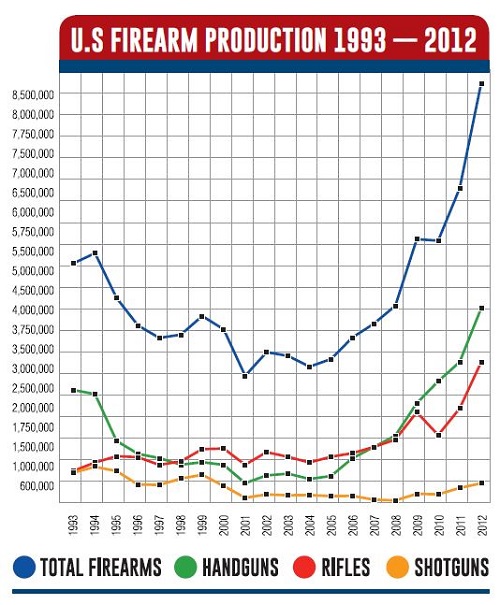 And finally, consider the economic value of firearm accessory purchases . . .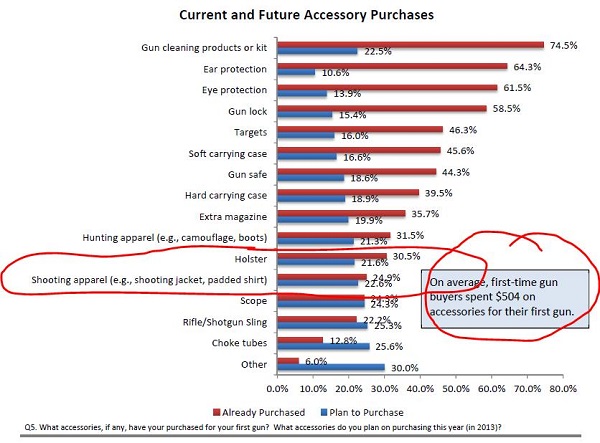 Investment
At the present time, product sales are direct from our e-Commerce website. Early stage capital will finance inventory, advertising, and infrastructure. This expansion will lead us towards greater sales and wider distribution.
CCW Breakaways LLC is seeking investor relationships with like-minded parties who share our morals, values and convictions about life and business.
If you would like to learn more about investing in our mission of "Protecting Families and Saving Lives," please consider the following four questions and then Contact Us. We will ask you to sign a Non-Disclosure Agreement. We can then begin a dialog to determine if a mutually beneficial business relationship is in both of our futures.
What attracts you to CCW Breakaways LLC?

Do you have any unique entrepreneurial talents and resources you'd like to bring to this relationship? Established Apparel & Garment Operations or Supply Chain? IP Licensing? Digital or e-Commerce Marketing? Relationships with Online or Brick & Mortar Retail?

Have you invested in the firearms, personal protection, or apparel industries previously?

CCW Breakaways LLC is committed to Life, Liberty and the Pursuit of Happiness as America's founding fathers envisioned in the Declaration of Independence, the US Constitution and specifically supported by the First and Second Amendments. What are your convictions about these principles?

SECURITIES DISCLOSURE WARNING
NO MONEY OR OTHER CONSIDERATION IS BEING SOLICITED AT THIS TIME, AND IF SENT IN TO CCW BREAKAWAYS, WILL NOT BE ACCEPTED. NO OFFER TO BUY SECURITIES OF CCW BREAKAWAYS CAN BE ACCEPTED UNTIL CCW BREAKAWAYS' OFFERING STATEMENT IS QUALIFIED.
ANY SUCH OFFER TO BUY SECURITIES MAY BE WITHDRAWN OR REVOKED, WITHOUT OBLIGATION OR COMMITMENT OF ANY KIND, AT ANY TIME BEFORE NOTICE OF ITS ACCEPTANCE IS GIVEN AFTER THE QUALIFICATION DATE. ANY INDICATIONS OF INTEREST IN CCW BREAKAWAYS OFFERING INVOLVES NO OBLIGATION OR COMMITMENT OF ANY KIND.
THE OFFERING MATERIALS MAY CONTAIN FORWARD-LOOKING STATEMENTS AND INFORMATION RELATING TO, AMONG OTHER THINGS, THE COMPANY, ITS BUSINESS PLAN AND STRATEGY, AND ITS INDUSTRY. THESE FORWARD-LOOKING STATEMENTS ARE BASED ON THE BELIEFS OF, ASSUMPTIONS MADE BY, AND INFORMATION CURRENTLY AVAILABLE TO THE COMPANY'S MANAGEMENT. WHEN USED IN THE OFFERING MATERIALS, THE WORDS "ESTIMATE," "PROJECT," "BELIEVE," "ANTICIPATE," "INTEND," "EXPECT" AND SIMILAR EXPRESSIONS ARE INTENDED TO IDENTIFY FORWARD-LOOKING STATEMENTS, WHICH CONSTITUTE FORWARD LOOKING STATEMENTS. THESE STATEMENTS REFLECT MANAGEMENT'S CURRENT VIEWS WITH RESPECT TO FUTURE EVENTS AND ARE SUBJECT TO RISKS AND UNCERTAINTIES THAT COULD CAUSE THE COMPANY'S ACTUAL RESULTS TO DIFFER MATERIALLY FROM THOSE CONTAINED IN THE FORWARD-LOOKING STATEMENTS. INVESTORS ARE CAUTIONED NOT TO PLACE UNDUE RELIANCE ON THESE FORWARD-LOOKING STATEMENTS, WHICH SPEAK ONLY AS OF THE DATE ON WHICH THEY ARE MADE. THE COMPANY DOES NOT UNDERTAKE ANY OBLIGATION TO REVISE OR UPDATE THESE FORWARD-LOOKING STATEMENTS TO REFLECT EVENTS OR CIRCUMSTANCES AFTER SUCH DATE OR TO REFLECT THE OCCURRENCE OF UNANTICIPATED EVENTS.
This US Government SEC Investor Alerts regarding Private Placements should be examined.
http://www.sec.gov/oiea/investor-alerts-bulletins/ib_privateplacements.html